Welcome to Room 8's Blog for 2018. We are an awesome class of Year 6, 7 and 8 students at St Patrick's School in Auckland the'City of Sails' New Zealand. Our teacher is Mrs Dines. Nga Tahi Tatou Etu - We Stand Together As One
Wednesday, 12 July 2017


It was a very cold day, however, the sun came out most of the time on for our camp challenge on Friday the 23rd of June 2017
The long-awaited day had finally arrived and all the Room 8 students went to Camp at Long Bay known as MERC (Marine Education Reserve Centre) All students arrived at Camp and started off the day with an introduction.
The students were split into two groups. Both groups did the same activities but were rotated across these at different times. Before we set off with our groups to do our first activities, we were introduced to our instructors, Akari and Jono.
As Akari and Jono talked to us about MERC and asked us questions, they also talked to us about our first two activities.
Abseiling was my group's first activity. I felt very scared so I cried in tears because I thought I could not make it to the top and to the bottom. But really, we only had to climb down and that was it. The wall did not look that high but when I stood up at the top it was REALLY high. When It was my turn, I felt super scared so I just went slowly and slowly until in shock, my foot touched the ground. I felt amazed that I made it to the bottom with a little bit of encouragement and tears.
When it was my group's turn for the Giant Ladders, I felt afraid because I thought that I would not make it to the top, it really was high up and each step was further away from the previous one. Our instructor Akari, gave the instructions of how giant ladder works and how to put on our gear such as the harness and the helmet. There were many importances of each gear, so we had to listen very carefully. The harness was a bit different to the harness we wore during abseiling.
As the minutes felt as seconds, it was my TURN to climb up the really giant long ladder. My partner and I helped each other out when we needed help because it was a bit tricky for us to climb. We climbed up and up with help and encouragement. However, we couldn't make it to the top but at least we made it just to the one before the top ladder. It was now time for us to climb back down to the ground just like a frog. It was really hard and scary for me because I thought I would fall, however, the anchor people were holding me safely and tightly. As I climbed up, I was a bit happy because I was climbing up really long giant ladders
At last, I felt like a champion climbing up and down just like I'd climbed up on a normal ladder! And I also felt happy that I climbed and achieved my goals for the day, I had faced the challenges and overcome my fear!
Tuesday, 11 July 2017
Muscle Man
WALHT: Make a acrostic poem.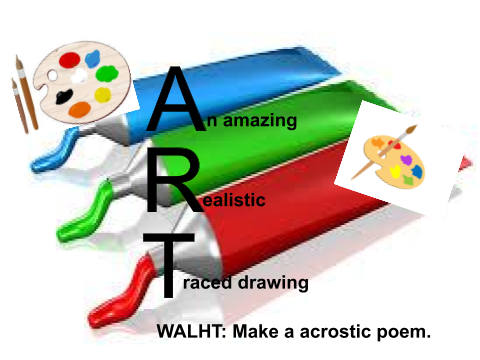 Wahlt
To observe & measure the chemical reaction between an acid and a base.
Chemical reactions involve the release of heat energy (exothermic) or the absorption of heat (endothermic). When reactants in this experiment meet, the temperature drops.
Other forms of energy can also be detected as the experiment proceeds. If you can hear anything, then sound energy is at work. Look foe movement this is kinetic energy.
Materials
measuring spoon or beaker
large measuring cylinder
5 ml Bicarbonate of soda (baking soda)
50 ml Vinegar
Hypothesis
When Bicarbonate of soda (base) and vinegar (acid) are mixed together, I think the mixture will fizz & increase towards the top.
Starting Volume: 55 ml
End Volume: 500 ml
Method
Carefully put 5 ml dry Bicarbonate of soda in a measuring cylinder.
Add 50 ml vinegar
Result:
The reaction was rapid (quick) and as it died down I could see the bubbles (foam) disappearing and the colour changed to a light brown.
Hypothesis:
My hypothesis was valid because I guessed the accurate amount for the ending volume and because if you add the right amount the Bicarbo
nate of soda & vinegar creates a chemical reaction.
The year 8's attended their 4th assignment of science with Mrs Gawith (our teacher). Our task today was to observe the reflection of bubbles provided with the help of sunlight booming through our window. Here is the procedure of what I have completed….
A plastic clear container

Detergent, glycerin, water

Natural sunlight facing the table or counter top.
Fill the clear container with the liquid solution and dampen your table, where the sunlight is located.

Plunge the straw into the solution and blow a semi circle bubble onto the table.

Observe carefully as colours will appear reflecting the sunlight, before evaporating.
Discover all the amazing colours and patterns of a bubble!
WALHT: Include a range of sophisticated/interesting words to hook our audience
Reflection of a bubble! Reflection of a bubble: Screenshot 2017-05-25 at 12.19.41.pngThe year 8's attended their 4th assignment of science with Mrs Gawith (our teacher). Our task today was to observe the reflection of bubbles provided with the help of sunlight booming through our window. Here is the procedure of what I have completed….
My fridge magnet was too big! Today was a foggy day of Technicraft. I didn't really catch up to the other students, but I know what they did. We've been focusing on making fridge magnets, and these are the materials on making it: Piece of wood Copy of a character you want (examples: Iron man, Batman, etc.) Transfer ink paper Wood tracing burner Paint tray Paint Primer spray paint Scroll saw Safety glasses Stick-on magnet or Magnetic tape Procedure: Take a piece of wood (22.5 cm x 15 cm) and make sure it's not too thick. Print out a copy of a character you would like and make sure it has the right size. Cut around the image of the character you chose. Get a transfer ink paper and tape it on the piece of wood. Do the same with the character, tape it on top of the transfer paper. Start drawing on the outline of the character. Take just the transfer paper by the tape and you can see that it's probably exactly like the actual image. Ask an adult to run a scroll saw and while waiting, mark around your character with a pencil on where you're going to cut. Before cutting, get yourself safety glasses just to protect your eyes. Move your character forward while cutting, but turn it so you can get the shape that you want for it. Put a stick-on magnet behind the wood after you've cut your character. And there you have it, your magnificent fridge magnet!!!
Postcard of Ezekiel 22:20


Would you like to know what is the difference between an endothermic and an exothermic reaction? This is a video of my partner and I doing an endothermic reaction and talking a littler bit about it!
Glossary:
Endothermic - A reaction which absorbs or requires heat.
Exothermic - A reaction that releases light and heat.